To report a crime or other emergency dial 9-1-1
For nearly four decades, the Bath Township Board of Trustees has contracted for law enforcement services from the Allen County Sheriff's Office.  Three full time deputies are assigned exclusively to patrolling Bath Township. These deputies are supplemented by other on-duty A.C.S.O. officers. The Bath Township deputies work rotating 8-hour shifts with varying days off.
The cruisers driven by these deputies are owned by the Board of Trustees along with the equipment in the car. Bath Township provides all maintenance and repairs on this fleet..
The Board of Trustees meets regularly with Allen County Sheriff Matthew Treglia to discuss issues and concerns regarding law enforcement in Bath Township.
Our current Bath Township deputies are:
Dep. Donnie Chiles
Dep. Allen Ogle
Dep. Jared Breitigan
If you have a specific concern you may call Bath Township at 419-221-1797. To speak to a dispatcher or a supervisor, call 419-227-3535.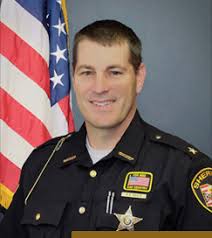 Allen County Sheriff's Office
333 N.Main Street
Lima, Ohio 45801
Phone: (419)227-3535
Fax: (419)227-2004
D.A.R.E. Program Coordinator: Deputy Mike White
whitem@acso-oh.us
PHONE: (419)227-7708
Area Sex Offender Search
Use this search to view all published offenders within a specified radius of your home, business, school or other desired address